This page comes directly from me to you. I'll tell you a bit about my training as a hypnotherapist and what led me to do this. After that I'll write a bit about my relevant core beliefs.
I have been practicing as a hypnotherapist and counsellor since 1986, having trained with the UK College of Hypnotherapy and Counselling. I continue to study all related aspects. In 2005 I became a Master of Research in Art.
I had worked in advertising, music and fashion but a long standing interest in people and psychology was growing. This led me to voluntary work which in turn led to the decision to become a psychotherapist.
My choice to train in hypnotherapy in particular emerged through personal experience. I was ill in my twenties. At my last operation, I decided to try to ease the post-operative pain myself, rather than with the usual chemical pain relief. Somewhat haphazardly, I made it up as I went along, and found that using my imagination worked! To my and the medics' amazement and delight I was home in a third of the time it had taken in the past and in far better health. I wanted to find out more about what I had done and this deep latent power we have and its possible uses.
I was and still am interested in people making measurable changes in their lives rather than in on-going analysis.
Hypnotherapy brought together interests in psychology, creative imagination and goal focused therapy.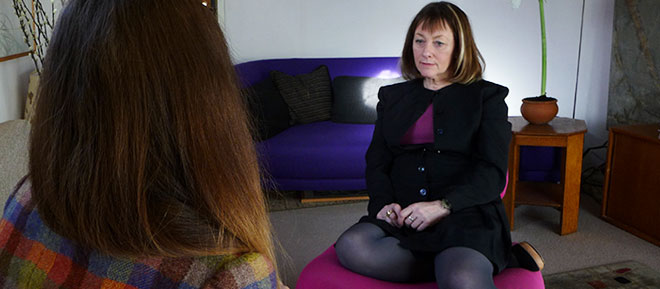 I believe…
…that we can do what we want to do
…that if things were bad or painful or scary, sometimes a part gets stuck at that time but that we are the very best person to go back and befriend and free that stuck part to grow up
…that we can change
…that for a real change to happen, it has to happen in thought, feeling and behaviour or physicality
…that you are unique and special
…that you are the star of your own fairy tale
…that you have all that you need for all that you need
…that love and fear are true opposites as they are mutually exclusive.
…that we have the courage to develop our own potential rather than seek in it in someone else
Registered and accredited Hypnotherapist and Counsellor
Registered and accredited with the National Council for Hypnotherapy and am a senior member of the General Hypnotherapy Register.
So – I have told you a bit about myself and about my approach as a hypnotherapist and counsellor. You're welcome to contact me.
To book a hypnotherapy treatment